Research article

Open Access

Open Peer Review
This article has Open Peer Review reports available.
Variants of PLCXD3 are not associated with variant or sporadic Creutzfeldt-Jakob disease in a large international study
BMC Medical Genetics
BMC series – open, inclusive and trusted
2016
17:28
Received: 16 September 2015
Accepted: 22 February 2016
Published: 7 April 2016
Abstract
Background
Human prion diseases are relentlessly progressive neurodegenerative disorders which include sporadic Creutzfeldt-Jakob disease (sCJD) and variant CJD (vCJD). Aside from variants of the prion protein gene (PRNP) replicated association at genome-wide levels of significance has proven elusive. A recent association study identified variants in or near to the PLCXD3 gene locus as strong disease risk factors in multiple human prion diseases. This study claimed the first non-PRNP locus to be highly significantly associated with prion disease in genomic studies.
Methods
A sub-study of a genome-wide association study with imputation aiming to replicate the finding at PLCXD3 including 129 vCJD and 2500 sCJD samples. Whole exome sequencing to identify rare coding variants of PLCXD3.
Results
Imputation of relevant polymorphisms was accurate based on wet genotyping of a sample. We found no supportive evidence that PLCXD3 variants are associated with disease.
Conclusion
The marked discordance in vCJD genotype frequencies between studies, despite extensive overlap in vCJD cases, and the finding of Hardy-Weinberg disequilibrium in the original study, suggests possible reasons for the discrepancies between studies.
Keywords
Human prion diseasesCreutzfeldt-Jakob disease PLCXD3
Background
Prion diseases are transmissible and fatal neurodegenerative disorders, affecting both humans and animals [1]. The human prion diseases comprise Creutzfeldt-Jakob disease (CJD), kuru, proteinase sensitive prionopathy, Gerstmann-Sträussler-Scheinker disease (GSS), fatal familial insomnia, and PrP Systemic Amyloidosis. 10–15 % of all human prion disease is inherited as a germline trait, caused by coding mutation of PRNP. Based on recent GWAS, the major common genetic determinant of sporadic or acquired prion disease risk is a missense polymorphism at codon 129 of PRNP, encoding for the cellular form of the prion protein, PrPc [2].
Recently a re-analysis of a previously published GWAS [3] consisting of 85 vCJD cases and 1481 control individuals found that after PRNP, the region most significantly associated with disease was at the PLCXD3 gene locus. Resequencing three intronic SNPs near the splice junction of intron 1 and exon 2 of this gene in 109 sCJD and 120 vCJD cases revealed that two of these SNPs showed marked Hardy-Weinberg disequilibrium and were highly significantly associated with disease compared to publicly available controls [4]. As this effect was extremely strong, we sought to replicate the finding in a further cohort of human prion disease cases to find out whether this gene was associated with increased disease risk and investigate any effects on clinical phenotype.
Results
Whilst we found modest evidence of association at SNPs in the vicinity of exon 1 in vCJD, this was far from genome-wide thresholds of significance in our sample, which largely overlaps the samples used in the original study (Fig.
1b
) and therefore is not evidence of replication. Elsewhere, and importantly at the splice junction of intron 1/exon 2, we found no Hardy-Weinberg disequilibrium or association with disease for any SNPs in the GWAS data consisting of 2500 sCJD cases, 129 vCJD cases and 10,548 control individuals (Fig.
1a
and
b
). The
PLCXD3
SNPs reported to be associated with disease risk in the GWAS by Bishop et al. [
4
] and the intronic SNPs found to have significantly different allele and genotype frequencies between cases and publicly available controls showed no association with disease in our study (Table
1
). For example, rs688551 minor allele frequency (MAF) =0.063, odds ratio (OR) sCJD vs. control =0.92 (0.81–1.05), rs319013 MAF =0.378 OR =0.94 (0.88–1.00) and rs76547469 MAF = 0.061 OR = 0.96 (0.85–1.10). In our sCJD study, assuming we genotyped perfectly, the functional SNP has 80 % power at a MAF of 0.06 to detect an additive heterozygous effect size of 1.19 [
17
].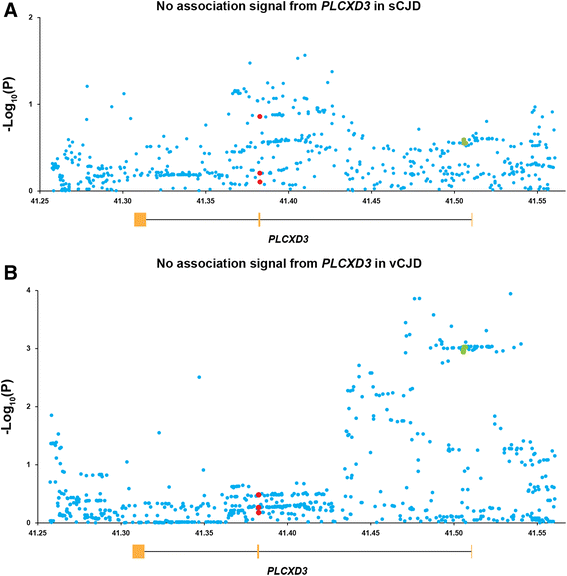 Table 1
PLCXD3 SNPs identified by GWAS and reported by Bishop et al. (†) and those subsequently resequenced by Bishop et al. (‡) are shown. P values are given for the discovery and replication studies. SNP positions refer to GRCh37 build
SNP ID

Position

Genomic-control corrected P-value

Bishop et al. GWAS

85 vCJD cases vs. 1481 controls

Allelic Fisher Exact P-value

Bishop et al. Resequencing

120 vCJD cases vs. publicly available controls

Allelic Fisher Exact P-value

Bishop et al. Resequencing

109 sCJD cases vs. publicly available controls

Frequentist additive P- value

MRC Prion Unit GWAS

129 vCJD cases vs. 5020 UK controls

Frequentist additive P-value

MRC Prion Unit GWAS

2500 sCJD cases vs. 10548 controls

rs3863150†

5:41506860

1.53 x 10−08

Not reported in study

Not reported in study

0.000949

0.282

rs688551†

5:41506080

1.53 x 10−08

Not reported in study

Not reported in study

0.000949

0.282

rs10075789†

5:41505703

1.53 x 10−08

Not reported in study

Not reported in study

0.00105

0.282

rs676328†

5:41505689

1.53 x 10−08

Not reported in study

Not reported in study

0.00115

0.257

rs545358‡

5:41382691

Not reported in study

<2.2 x 10−16

2.01 x 10−5

0.668

0.788

rs319013‡

5:41382681

Not reported in study

1.25 x 10−06

4.69 x 10−8

0.331

0.139

rs76547469‡

5:41382647

Not reported in study

0.247

0.0702

0.545

0.624
With allele discrimination probes we confirmed genotypes in 176 sCJD cases at both rs545358 (AA:AC:CC = 149:23:1) and at rs319013 (TT:TG:GG = 54:93:26) and in 119 vCJD cases at both rs545358 (AA:AC:CC = 102:17:0) and at rs319013 (TT:TG:GG = 43:58:18). Genotypes for all these cases were 100 % concordant with their imputed genotypes when scored by the threshold method. Using resequencing we further confirmed genotypes in 46 sCJD cases at rs545358 (AA:AC:CC = 35:10:1) and at rs319013 (TT:TG:GG = 12:28:6) and in 47 vCJD cases at rs545358 (AA:AC:CC = 36:11:0) and at rs319013 (TT:TG:GG = 16:23:8). Again genotypes for all these cases were 100 % concordant with their imputed genotypes in the GWAS.
Using whole exome sequencing in 376 CJD cases we found only one non-synonymous heterozygous variant in the PLCXD3 gene in a patient with sCJD (exon2:c.C673G:p.L225V), however this variant was also present in the 1000 Genomes control population with a minor allele frequency of 0.0005. Additionally we found a separate non-synonymous heterozygous variant in PLCXD3 in one sample in the control population which was not found in CJD cases. There was no significant association of variants in PLCXD3 with disease in the exome sequencing data (p = 0.566).
Discussion
We looked to replicate published findings at PLCXD3 in the context of genomic studies of prion disease. We show that there is no exceptional association of variants in this gene with human prion disease. A critical step in validating GWAS signals is replication of results and we have been unable to do this in our much larger study of CJD cases which inherently has more power to detect an association [18]. A recent GWAS of 434 sCJD patients and an independent replication cohort of 1109 sCJD patients was reported but apparently did not replicate a strong signal at the PLCXD3 locus [19]. We suggest that this gene should not be considered a priority candidate for further study as a modifier in prion disease.
There are a number of reasons which together may contribute towards the discrepancy between studies including differences in sample-size and genotyping procedures. We also considered the possibility of errors in genotyping or imputation in our study, and as a precaution against this used a second method to confirm the accuracy of our data.
We note some limitations of our own study. The sample size for vCJD cases was necessarily small and we cannot exclude the possibility of modest risk effects specific to this human prion disease. In sCJD, we can exclude all but very weak effects at the locus conferred by common SNPs, and strong effects conferred by coding variation, but we did not test for structural variation at PLCDX3, which was reported genome-wide elsewhere [20]. We did not study modifying effects of genetic variation on the clinical phenotype of prion disease, which can be profound [21]. We did not do functional studies of PLCXD3, which in our view are not warranted without substantial evidence of genetic association.
Conclusion
Polymorphisms of PLCXD3 are unlikely to be risk factors in human prion disease.
Declarations
Acknowledgements
We thank all the patients and control individuals involved in this study. The work was funded by the Medical Research Council UK. In Germany, the study was funded by the Robert Koch-Institute through funds of the Federal Ministry of Health (grant no. 1369-341). Some of this work was supported by the National Institute of Health Research's Biomedical Research Centre at University College London Hospitals NHS Trust. RB is a Leonard Wolfson Clinical Research Training Fellow and is funded by a Wellcome Trust Research Training Fellowship (107196/Z/14/Z).
Open AccessThis article is distributed under the terms of the Creative Commons Attribution 4.0 International License (http://creativecommons.org/licenses/by/4.0/), which permits unrestricted use, distribution, and reproduction in any medium, provided you give appropriate credit to the original author(s) and the source, provide a link to the Creative Commons license, and indicate if changes were made. The Creative Commons Public Domain Dedication waiver (http://creativecommons.org/publicdomain/zero/1.0/) applies to the data made available in this article, unless otherwise stated.
Authors' Affiliations
(1)
MRC Prion Unit and Department of Neurodegenerative Disease, UCL Institute of Neurology, London, UK
(2)
Clinical Dementia Center, Department of Neurology, Georg-August University Göttingen, Göttingen, Germany
(3)
German Center for Neurodegenerative Diseases, Gottingen, Germany
(4)
Department of Pathology, Case Western Reserve University, Cleveland, USA