Research article

Open Access

Open Peer Review
This article has Open Peer Review reports available.
Novel mutations of PKD genes in the Czech population with autosomal dominant polycystic kidney disease
BMC Medical Genetics
2014
15:41
Received: 13 August 2013
Accepted: 10 March 2014
Published: 3 April 2014
Abstract
Background
Autosomal dominant polycystic kidney disease (ADPKD) is the most common hereditary renal disorder caused by mutation in either one of two genes, PKD1 and PKD2. High structural and sequence complexity of PKD genes makes the mutational diagnostics of ADPKD challenging. The present study is the first detailed analysis of both PKD genes in a cohort of Czech patients with ADPKD using High Resolution Melting analysis (HRM) and Multiplex Ligation-dependent Probe Amplification (MLPA).
Methods
The mutational analysis of PKD genes was performed in a set of 56 unrelated patients. For mutational screening of the PKD1 gene, the long-range PCR (LR-PCR) strategy followed by nested PCR was used. Resulting PCR fragments were analyzed by HRM; the positive cases were reanalyzed and confirmed by direct sequencing. Negative samples were further examined for sequence changes in the PKD2 gene by the method of HRM and for large rearrangements of both PKD1 and PKD2 genes by MLPA.
Results
Screening of the PKD1 gene revealed 36 different likely pathogenic germline sequence changes in 37 unrelated families/individuals. Twenty-five of these sequence changes were described for the first time. Moreover, a novel large deletion was found within the PKD1 gene in one patient. Via the mutational analysis of the PKD2 gene, two additional likely pathogenic mutations were detected.
Conclusions
Probable pathogenic mutation was detected in 71% of screened patients. Determination of PKD mutations and their type and localization within corresponding genes could help to assess clinical prognosis of ADPKD patients and has major benefit for prenatal and/or presymptomatic or preimplantational diagnostics in affected families as well.
Keywords
ADPKD PKD geneMutational analysisMutationHRMMLPAPolycystic kidney disease
Background
ADPKD is a hereditary renal disorder with the incidence of 1:400 to 1:1000 live births, characterized by focal development and progressive enlargement of cysts in kidneys leading to the decline of renal function. End-stage renal disease (ESRD) occurs during the late phase of the illness and the majority of patients have to start dialysis and/or undergo kidney transplantation. The disease is frequently accompanied by many extra-renal symptoms, such as hypertension, formation of cysts in liver or pancreas, abnormalities of cardiovascular system or development of brain-aneurysms [1].
ADPKD is genetically determined by two genes, PKD1 (16p13.3) [2] and PKD2 (4q21-22) [3]. In clinical identified populations, mutations of the PKD1 gene account for approximately 85% of all ADPKD cases and are responsible for more serious form of the disease (the average age at the onset of ESRD is 58) [4]. Fifteen percent of ADPKD patients with milder clinical presentation (the average age at the onset of ESRD is 79) carry mutation in the PKD2 gene [5, 6]. The hypothetical existence of the third PKD locus has not been supported by new reports [7, 8].
The PKD1 gene (46 exons) encodes a large, transmembrane protein called polycystin-1 (4303 amino acids). The PKD2 gene product (15 exons) is an integral membrane protein polycystin-2 (968 amino acids) that acts as a transient receptor potential (TRP) ion channel involved in the regulation of intracellular Ca2+ concentration. Both proteins interact with each other in kidney primary cilia forming complex that hypothetically functions as a flow-dependent mechanosensor with a crucial role in the adhesion, proliferation and differentiation of tubular epithelial cells [9, 10].
Both genes are highly polymorphic and sequence changes are spread over their whole length [11]. The majority of mutations are unique to a single family, recurrent mutations account only for 30% of the total [12]. Currently, 978 sequence variants of the PKD1 gene and 193 sequence variants of the PKD2 gene have been published in the Human Gene Mutation Database (HGMD) (http://www.hgmd.cf.ac.uk). The specialized Autosomal Dominant Polycystic Kidney Disease Mutation Database (PKDB) presents even 1,923 different sequence variants of PKD1 and 241 sequence variants of the PKD2 gene (http://pkdb.mayo.edu; [13]).
The high variability of sequence changes is not the only fact that makes the analysis of PKD genes difficult. First 33 exons of the PKD1 gene are duplicated six times with 97% sequential identity. These pseudo genes are located in the close surroundings of the original gene and significantly complicate the mutational screening of the PKD1 gene [14].
The clinical course of ADPKD is highly variable not only among families with different mutations but within families with a defined mutation as well. The large phenotypic variability of ADPKD within affected families highlights a role for the genetic background in disease presentation. Hypomorphic or incompletely penetrant PKD1 or PKD2 alleles have been described, causing mild cystic disease [15, 16]. Coinheritance of hypomorphic allele in combination with an inactivating PKD allele can be associated with early-onset disease. About 2% of ADPKD patients show such an early and severe phenotype (renal enlargement in utero or in infancy) that can be clinically indistinguishable from autosomal recessive polycystic kidney disease (ARPKD). These severe cases have been explained by the presence of the expected familial germ-line mutation and, in addition, other supplementary mutations in PKD genes (including PKD1, PKD2, PKHD1 and also HNF-1β gene), which act as modifying genes and likely aggravate the final phenotype [17]. Moreover, mosaicism can also modulate the course of ADPKD in some families [16, 18, 19].
Diagnosis of ADPKD is usually based on an age-specific phenotype of affected kidneys (number and size of renal cysts on the ultrasound, computed tomography or magnetic resonance imaging), accompanying factors (for example hypertension) and positive family history [19–21]. Molecular diagnostics (traditional linkage analysis or direct mutational screening) is a useful tool to determine and confirm the definite diagnosis, especially for evaluation of potential living related kidney donors, for individuals with negative family history and for patients with early onset of ADPKD [22]. Molecular analysis of PKD genes is quite complicated and time-consuming, therefore new methods are being developed to simplify the whole process [23–25].
In the present study, the mutational analysis of both PKD genes in a cohort of 56 Czech patients with ADPKD was performed using HRM and MLPA techniques.
Methods
Patients
The mutational screening of PKD genes was performed in a set of 56 unrelated Czech patients with ADPKD diagnosed by renal ultrasound in accordance with previously described criteria [26]. The study was approved by the Ethics Committee of General University Hospital in Prague on May 23, 2006. All patients provided written informed consent. According to the linkage analysis, the disease was linked to the PKD1 gene in 20 individuals. In 26 patients a relation of the disease to the PKD1 gene was not proved and 10 patients had an isolated occurrence of the disease within a family.
Linkage analysis
Linkage analysis was carried out using a panel of CA-repeat flanking markers. The combination and number of markers used for analysis were selected to achieve at least two informative markers, one on the 5′end and the second on the 3′end of PKD gene to rule out possible recombination. The markers used for PKD1 analysis were: D16S521, D16S3024, KG8, CW4, CW3, CW2, and for PKD2 analysis: D4S231, D4S1534, JSTG3, JV108, AICA1, D4S1563 and D4S414.
Mutational screening
The genomic DNA was isolated from the peripheral blood lymphocytes using QIAGEN spin columns on a QIAcube (QIAGEN GmbH).
At first, the screening of the PKD1 gene was carried out in the selected set of 56 patients. For mutational analysis of the PKD1 gene, the technique of a long-range PCR (LR-PCR) followed by nested PCR was used [27]. Nested PCR amplicons were produced and analyzed by the method of High Resolution Melting (HRM); positive clones were reanalyzed and confirmed by sequencing in both directions. The protocol of the whole strategy (including primers and PCR reaction conditions) was previously described in detail by Reiterova et al. [16].
The DNA of patients where no definite pathogenic mutation was found within the PKD1 gene (29 samples) were subsequently analyzed via mutational screening of the PKD2 gene by HRM and via MLPA for large rearrangements of both PKD1 and PKD2 genes. This subset of 29 individuals included patients without any sequence changes found by mutational analysis of the PKD1 gene as well as patients with unpublished putative missense mutations, putative splice-site mutations and in-frame deletions/insertions detected in the PKD1 gene.
The coding region and intron-exon boundaries of the
PKD2
gene were screened via 17 PCR fragments. The sequences of PCR primers (some primers were designed on the base of Tan
et al.
) and the conditions of PCR reactions are available upon request [
28
]. PCR fragments were produced and analyzed by HRM using the LightCycler® 480 (Roche Applied Science). The reaction mixture (total volume of 10 μl) contained 1 μl of diluted template DNA, 1 × LightCycler® 480 High Resolution Melting Master Mix (Roche Applied Science) and 5 pmol of primers. The LightCycler® 480 Gene Scanning Software (Roche Applied Science) analyses the melting profile of samples to identify changes in the shape of melting curves, which indicate both homozygous and heterozygous allelic variants in a sample (Figure
1
) [
29
]. All PCR fragments showing aberrant melting curves by HRM were sequenced. The sequencing reaction was performed according to the manufacturer's instructions using the BigDye® Terminator v1.1 Cycle Sequencing Kits (Applied Biosystems) and ran on an ABI PRISM® 310 Genetic Analyser (Applied Biosystems).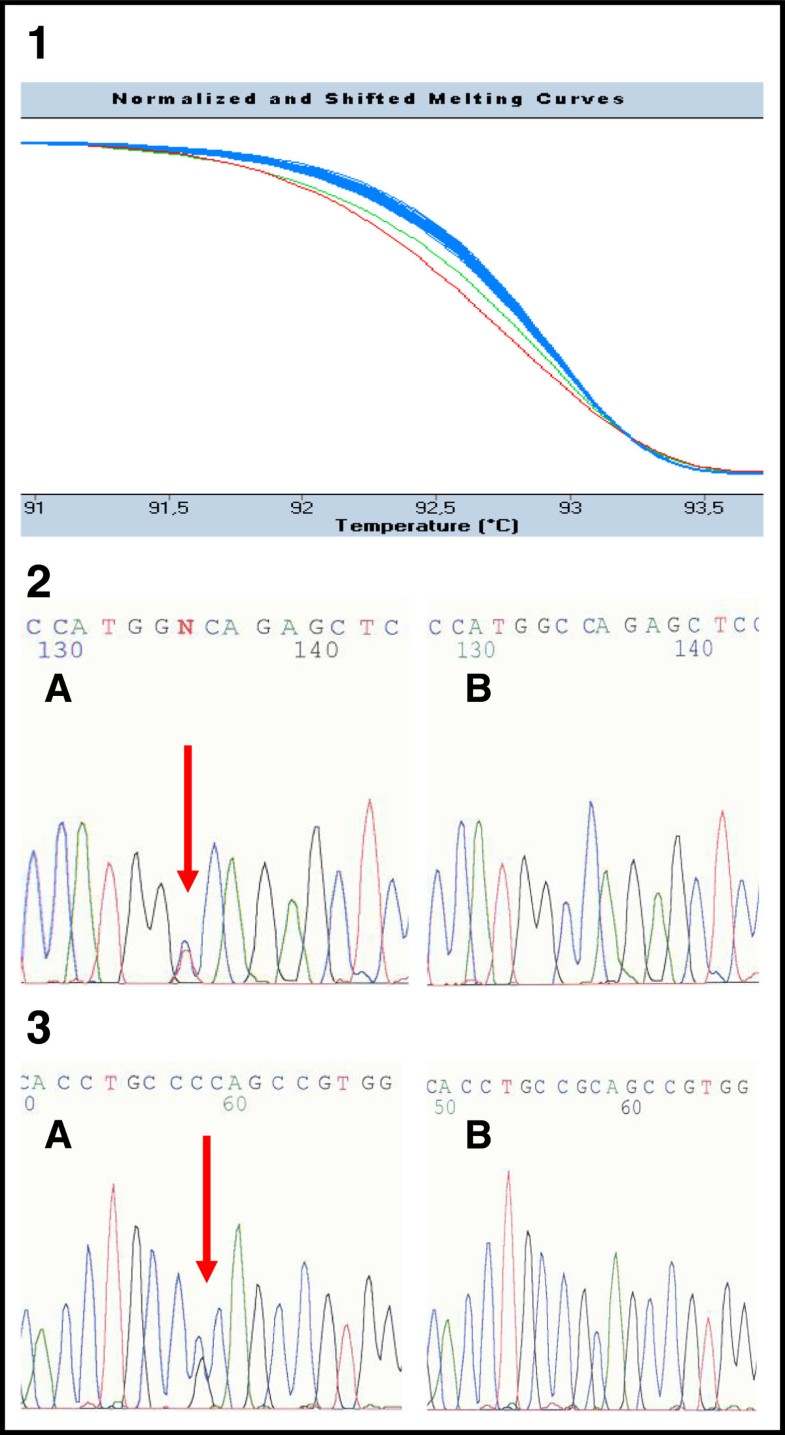 MLPA analysis (MRC-Holland) was carried out with SALSA MLPA KIT P351-B1/P352-B1 PKD1-PKD2, which together covers 37 from 46 exons of the PKD1 gene, its upstream regulatory sequences, entire PKD2 gene and three exons of the TSC2 gene adjacent to the PKD1 gene [30]. The MLPA reaction was performed with 50–100 ng of genomic DNA according to the manufacturer's instructions. The result of MLPA was carried out by fragmentation analysis with the use of ABI PRISM® 310 Genetic Analyser (Applied Biosystems). To obtain the final results, the generated raw data were normalized according to the manufacturer's instructions. At first intra-sample normalization was performed by dividing the peak area of each probe's amplification product by the total area of only the reference probes in the probemix. Subsequently, the normalization between individual samples was done by dividing the intra-normalized probe ratio of each sample by the average intra-normalized probe ratio of reference samples (negative controls). In-house developed method was used for the entry of all these calculations.
To prove the segregation of the potential mutation in PKD genes with the disease in the family, the DNAs of all available members of the respective family (including healthy individuals) were tested as well.
Data analysis and sequence changes classification
All sequenced samples were compared to the following NCBI reference sequences: [GeneBank: NM_001009944.2] for the PKD1 gene and [GeneBank: NM_000297.3] for the PKD2 gene. The sequence changes found within this study were checked with the list of PKD sequence variants currently published in the Human Gene Mutation Database (HGMD) (http://www.hgmd.cf.ac.uk) and the Autosomal Dominant Polycystic Kidney Disease Mutation Database (PKDB) (http://pkdb.mayo.edu). In case of novel mutations, their pathogenic potential was assessed. Nonsense or frameshift variants leading to a premature STOP codon were considered as definitely pathogenic.
The pathogenic potential of missense variants was evaluated computationally by examining interspecies sequence variations using PolyPhen2 (http://genetics.bwh.harvard.edu/pph2/; [4, 31, 32]) and Sorting Intolerant from Tolerant (SIFT) (http://sift.bii.a-star.edu.sg/; [4, 32, 33]) software. The sequence variant was considered as likely pathogenic, if both scores assessed its pathogenity. When only one test predicted the pathogenic potential, the variation was reported as indeterminate. The pathogenic relevance of putative splice site mutations was evaluated in the same way using NetGene2 (http://www.cbs.dtu.dk/services/NetGene2/; [34]) and Human Splicing Finder (HSF) (http://www.umd.be/HSF/; [35]) software. Further criteria for classification of missense or splice site variant as likely pathogenic mutation were its segregation within the affected family and absence of additional, more probable mutation in a concrete patient (family).
Possible influence of sex and type of mutations on the age of renal failure was evaluated. For this purpose, Shapiro-Wilk normality test for each group was performed and subsequently, according to results of normality test, unpaired two-sample t-test was used to compare the groups. All computations were carried out using in-house developed scripts in R language.
Results
We performed mutational analysis in PKD genes in a set of 56 unrelated Czech patients with ADPKD diagnosed by renal ultrasound. Twenty selected individuals came from families where ADPKD was linked unequivocally to the PKD1 gene according to the linkage analysis. Other 26 cases were the families with more serious manifestation of the disease (ESRD before 60 years of age). In this group of patients, a direct relation of the disease to the PKD1 gene has not been proven by the method of linkage analysis. At last, 10 unrelated individuals with an isolated occurrence of the disease within their families were examined (an assumption of de novo mutation).
In total, eleven frameshift mutations (29%), nine nonsense mutations (24%), eleven missense mutations (29%), four small in-frame deletions/insertions (10%) and three putative splice-site mutations (8%) were detected in our set of patients. Via MLPA, one additional new large deletion was found within the PKD1 gene.
Regarding the distribution of revealed mutations among the patients with distinctive phenotype and a family history, 16 likely pathogenic mutations (42%) were found in a cohort with more serious manifestation of ADPKD (ESRD reached before the age of 60 years). Fifteen putative mutations (approximately 40%) were detected among families with clear linkage to the PKD1 gene. The rest (18% of likely pathogenic mutations) referred to the set of patients without positive family history (isolated occurrence in a family).
Nonsense and frameshift mutations
One patient (275) from our study was found to have two truncating pathogenic mutations (one nonsense mutation and one frameshift mutation), both already published and both located within the exon 23 probably in cis regarding his mild phenotype of ADPKD without progression. Similar cases have been already described in the literature, but their existence is rare [11]. The patients 394, 395 and 427 are the representatives of the group with isolated occurrence of ADPKD within their families.
Missense mutations
Via our mutational analysis of both
PKD
genes, 9 likely pathogenic missense mutations have been identified; all within the
PKD1
gene. Five mutations have been determined as novel and two already published substitutions (p.Gly1999Ser and p.Glu2771Lys) were recurrent (both present in two different individuals). Eight substitutions segregated with the disease in affected families (Table
5
) and were confirmed as pathogenic by both predictor programs (PolyPhen2 and SIFT), one substitution occurred
de novo
.
Table 5
Segregation of likely pathogenic missense and small in-frame indel mutations of PKD1 with polycystic kidney disease in affected families
Amino acid change

Nucleotide change

Family

Number of affected/healthy family members

p.Cys522Arg

c.1564 T > C

338

5/2

p.Gly1999Ser

c.5995G > A

301

3/2

p.Asn2044Asp

c.6130A > G

315

6/4

p.Cys2495Tyr

c.7484G > A

112

3/3

p.Leu2619Arg

c.7856 T > G

357

2/3

p.Glu2771Lys

c.8311G > A

336

2/1

389

6/5

p.Gly3651Ser

c.10951G > A

330

2/3

p.Arg3750Gly

c.11248C > G

419

2/2

p.Glu3660_Ala3661delinsAsp

c.10980_10982delAGC

297

2/4

p.Leu3998_Leu3999insPheLeuLeu

c.11993_11994dup9

161

3/3

p.Lys4147del

c.12439_12441delAAG

454

3/2
Splice-site mutations
The probable splice-site mutations c.8792-2A > T (patient 482) and c.12004-15_12015del27 (patient 425) cover the consensus sequence of conserved splice-site and both predictor programs suggested their pathogenity. Although the probable splice-site mutation c.10821 + 4_10821 + 6del AGG (patient 413) is also situated within the conserved splice-site, its pathogenic impact is milder. According to NetGene2 and HSF, this mutation does not abolish the splice-site completely but decreases its efficiency significantly. Therefore this mutation was classified as pathogenic as well.
Small in-frame deletions/insertions
Within our set of 56 Czech individuals (families), four small in-frame deletions/insertions were detected; three of them were described as novel. The common molecular mechanisms of origin of such genomic events are non-homologous end joining (NHEJ) or microhomology-mediated replication-dependent recombination (MMRDR) [44]. All three novel small in-frame deletions/insertions characterized in the present study show high evolutionary conservation of involved amino acid residues; all three are the only probably pathogenic mutations identified in the patient and segregate with the disease in affected families (Table 5). Their pathogenic potential is therefore highly probable.
Large rearrangements
By the method of MLPA, one novel large deletion of the PKD1 gene was revealed in patient 105 with proven linkage of ADPKD to the PKD1 gene. The deletion was spread from the exon 3 to the first half of exon 15. The exact beginning of the deletion is arguable, because there is no probe for exon 2 in the MLPA kit used within our study. The deletion was identified in all available affected members of the family but was not characterized at the nucleotide level due to the sequence complexity of the PKD1 locus.
Indeterminate sequence changes
Four sequence changes found within our set of patients were categorized as indeterminate (Table 2). The possible splice-site mutations PKD1/c.11712 + 8C > A and PKD2/c.2019 + 9A > C segregate with the disease in affected families and are the only possible mutations found in patients 409 and 466, respectively. However, their location is out of the conventional range of the consensus splice-site sequence and both predictor programs (NetGene2 and HSF) evaluated them as non-pathogenic. Despite its segregation within affected family, also the substitution PKD1/p.Ala1201Val (patient 308) was determined as benign by both software programs used (PolyPhen2 and SIFT). Although the substitution PKD1/p.Ala3240Thr (patient 412) was predicted as possibly damaging by PolyPhen2, SIFT defined it as benign as well.
Discussion
The highest portion of mutations found within our study (54%) was predicted to truncate the protein. These truncating changes include frameshift mutations, nonsense mutations and one large deletion. Our findings seem to be in concordance with the recent publication by Cornec-Le Gall et al., where approximately two thirds of PKD1 mutation-positive pedigrees carried truncating mutations [6]. In addition, the most frequent definitely pathogenic mutation type of the PKD1 gene in our study is a frameshift mutation (29%), which is consistent with detailed current reports [6, 12, 36].
Conclusion
The methods for mutational identification are constantly improving and enable us to screen even such a complex gene as PKD1. The HRM and MLPA are relatively fast and convenient methods that together reached the detection level of 71%. The question is how to interpret the data from genetic analysis. The differences in severity of the disease within affected relatives suggest that the phenotype of ADPKD is influenced not only by the type or location of the mutation but also by genetic background and environmental factors. The assessment of patient's prognosis on the basis of molecular diagnostics is therefore still impossible, but allows us a screening of presymptomatic relatives and kidney donors. Full characterization of molecular etiology of ADPKD should facilitate possible therapeutic intervention.
Declarations
Acknowledgements
The study was funded by grants from: research projects IGA MZCR NR 9427-4/2007 and PRVOUK – P25/LF1/2. We would like to thank Stanislava Svobodova for the support with developing of methods, Anastassiya Zidkova for statistical support and Zdenka Hruskova for language corrections. We are also grateful for cooperation to patients, their families and clinical geneticists.
Authors' Affiliations
(1)
Institute of Biology and Medical Genetics of the First Faculty of Medicine and General University Hospital, Prague, Czech Republic
(2)
Department of Nephrology of the First Faculty of Medicine and General University Hospital, Prague, Czech Republic
(3)
Genetika Plzeň, s.r.o., Plzeň-Černice, Czech Republic
Copyright
© Obeidova et al.; licensee BioMed Central Ltd. 2014
This article is published under license to BioMed Central Ltd. This is an Open Access article distributed under the terms of the Creative Commons Attribution License (http://creativecommons.org/licenses/by/2.0), which permits unrestricted use, distribution, and reproduction in any medium, provided the original work is properly credited.